I recently nabbed a few items via
Cherry Culture
after months and months of researching some NYX and Milani products I had been dying to try.
After careful consideration and much deliberation, I picked up 2 Milani LIQUIF eyeliners, 1 NYX Jumbo pencil, 2 Milani Mineral lushes, 3 Milani Baked blushes, 4 NYX Matte lipsticks and 2 NYX Round lipsticks.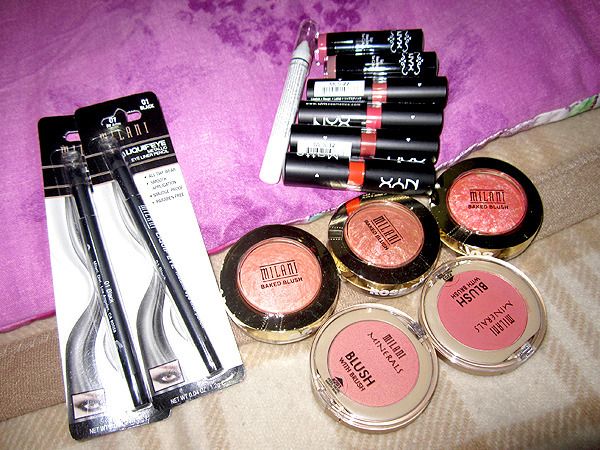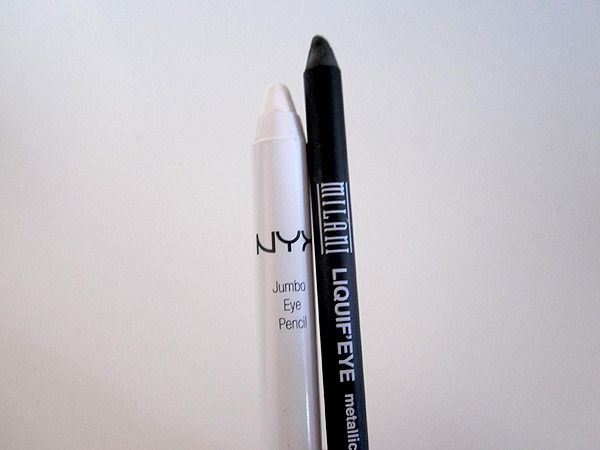 Milani LIQUIF eyeliner in Black $6.99
- For most of you who know half a thing about YouTube gurus and beauty bloggers would know that the Milani LIQUIF liner is often touted as the best drugstore liner with comparisons drawn to the Urban Decay 24/7 liners and other more expensive products. I am actually highly impressed by how black and creamy this liner is. I don't personally own Zero by UD but I do own Perversion which is their blackest black, and I feel that I would probably reach for the Milani over UD, which is 3 times the price of Milani. I feel that the UD 24/7 is a bit TOO creamy so the product breaks down incredibly fast. I feel like I'm sharpening this liner almost after every use so you can imagine how fast I go through the Urban Decay 24/7. From my personal experience, I couldn't go as far as to say that this liner stays all day but it does have impressive wear of up to 5 hours.
NYX Jumbo pencil in Milk $3.50
- I haven't had an opportunity to use this product yet. I intend to use it on my waterline as well as as an eye base. I know most people opt for a flesh coloured pencil on the waterline as white can be too stark and I did try an Illamasqua flesh toned pencil but the colour was simply not vibrant enough. Happy to do a proper review after usage if anyone is interested.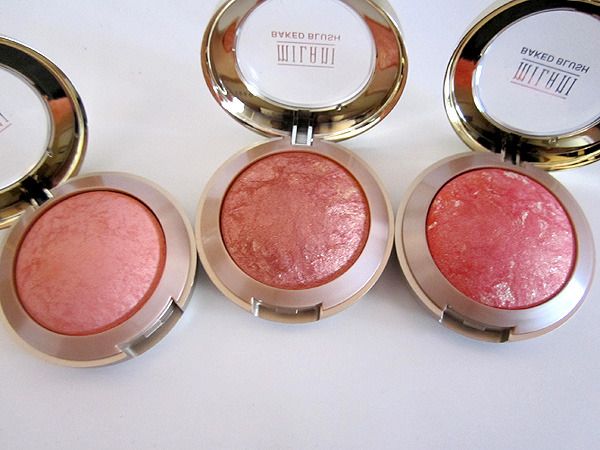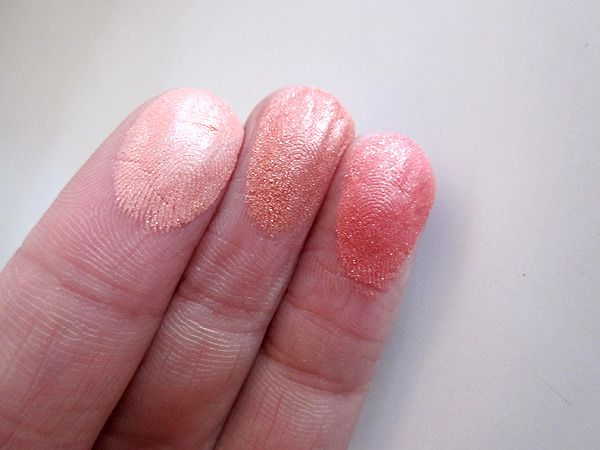 Left to right: Luminoso, Rose D'oro and Corallina
Milani Baked Blush $6.99
- In terms of colour, I guess I'll just let the swatches do the talking. These blushes are extremely luxurious for the price, super pigmented and literally
lasts all day
. I would even go out on the limb and say they're more pigmented and long lasting than my all-time favourite blushes - NARS. The only con is that because they're so high in pigmentation, a light hand is needed for application. As you can probably see, these blushes have a decent amount of shimmer. On the cheeks, it's really not as conspicuous and appears more as a sheen but if glitter and shimmer is not up your thing, I'd opt for the product below which is of a more matte finish.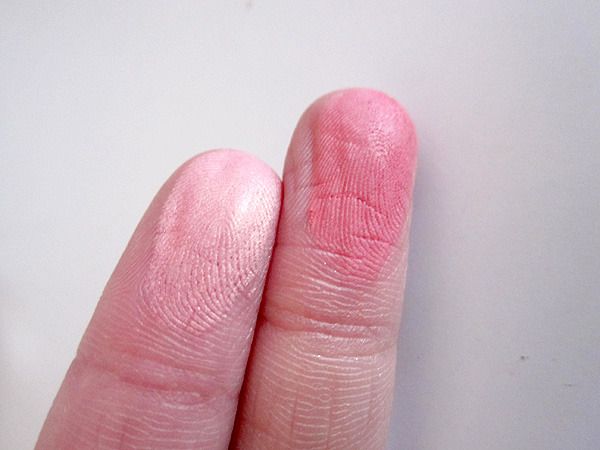 Left to right: Luminous and Mai-Tai
Milani Minerals Blush $5.75
- There's not much I can say about these blushes yet other than that they're incredibly beautiful and pigmented. One thing I will say though, and this similarly applies to the baked blushes, is that I'm not a fan of their packaging. Whilst there's nothing visually disturbing about them, due to having a brush in a separate compartment under the blush, they are quite bulky. I guess I'm just used to the slim cases in which the NARS blushes come in.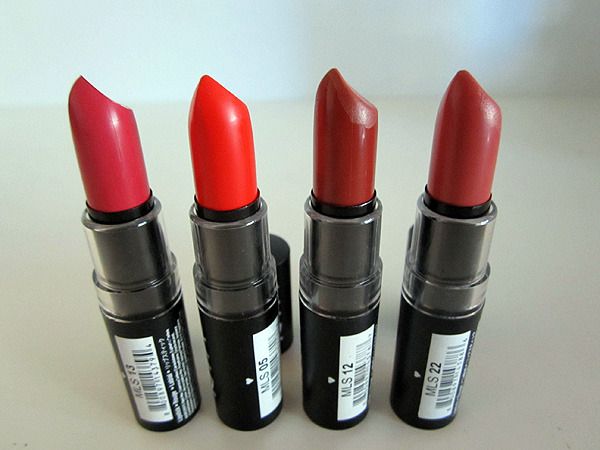 Left to right: Angel, Indie Flick, Sierra and Strawberry Daiquri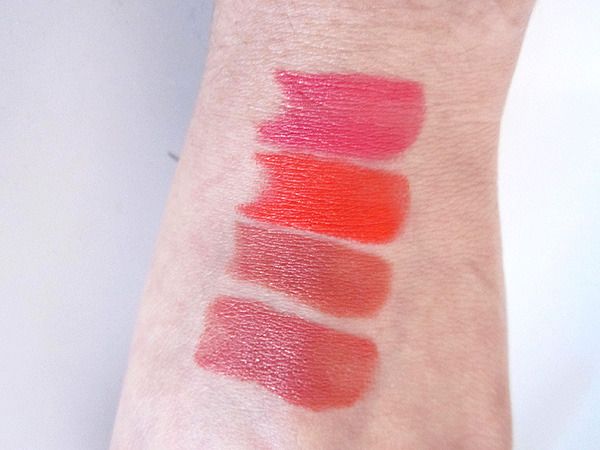 Top to bottom: Angel, Indie Flick, Sierra and Strawberry Daiquri
NYX Matte lipsticks $6.00
- Considering NYX Round lipsticks are $2.99 per pop, I thought these were quite a splurge. I based my decision making on
this
video posted by
itsjudytime
. We have similar skin tones and I feel that the colours that would work on her would also work well for me. Angel is a great everyday pink as it's not too blue tone. Indie Flick is a beautiful red orange shade that is quite similar to MAC's Toxic Tale which was released with the Venomous Villains collection. Sierra and Strawberry Daiquiri are just easy, everyday neutral colours that I can pop on with my usual brown or bronze shadows. These lipsticks are creamy (not as creamy as the Round lipsticks), have superb colour pay-off and is definitely worth your penny!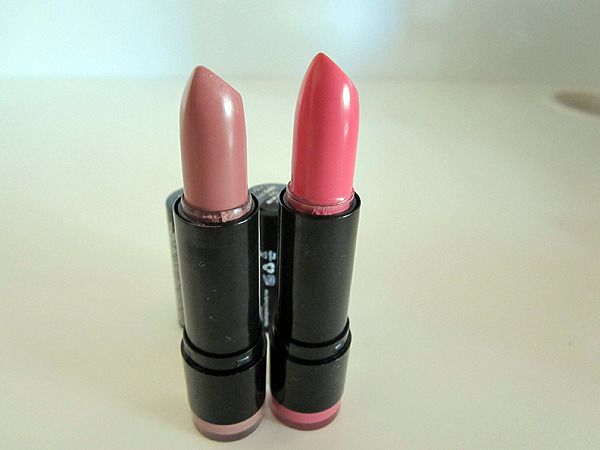 Left to right: Thalia and Fig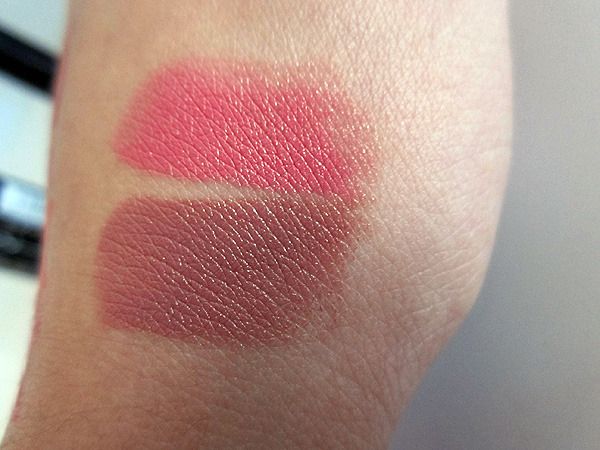 Top to bottom: Fig and Thalia
NYX Round lipsticks #2.99
- Just a quick comment on the price increase. Back when I
first
purchased NYX lipsticks off Cherry Culture in like '09, these babies were only $1 or something crazy. I'm rather shocked to find that the price of these products have since increased threefold! NYX Round lipsticks are widely loved for the smooth consistency and great colour pay-off and these two are no exception to the rule. I am in LOOOVEEEE with Thalia! Whilst it looks a tad grey in the tube, on the lips it is the perfect neutral shade which is right up my alley. Fig is a beautiful warm pink which is a smidgen more vibrant than my favourite NYX lipstick - Tea Rose.
So shipping from Cherry Culture was surprisingly fast. I believe it took them approx. 3 days to pack my goods in the warehouse and shipping time was about a week, or maybe even less, which was a nice surprise as I remember waiting up to 2 weeks for Cherry Culture packages on previous occasions.
Overall, I am
more
than happy with my purchases. I think I'm going to be a little cray and pick up
all
more of the Milani blushes and I also have my eyes on a few other raved about NYX products including their lip pencils so stay tuned for more NYX and Milani hauling!